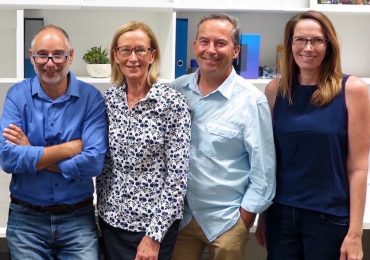 Blue Dot Travel is a boutique tour operator located in St Leonards, Sydney. Our core business is crafting and managing small group tours to unique destinations, both in Australia and around the globe. Each itinerary we offer is hand-tailored for our clients. Our itineraries are unique. We enjoy taking our groups off the tourist trail, venturing further, experiencing the small gems, meeting and sharing a meal with locals, and being fully engaged in learning about a region and its history… without missing any of the must-sees along the way. We don't sell off-the-shelf tours. Our tours are fully guided and mostly escorted from Australia. We're passionate about travel and love to share our knowledge and enthusiasm with like-minded travellers.

Four passionate travellers own Blue Dot Travel. Brett and Kate Goulston launched Blue Dot Travel in 2011. They bought a "hobby business" and have grown it into a successful, boutique travel agency. Brett and Kate consider themselves travel "tragics". Their two daughters never prevented them from seeing the world. They were simply taken along for the ride.
In 2016, Brod Brennan and Joanne Coughlan came on board as joint owners in our boutique travel agency. Having travelled extensively, their involvement in the business was a natural progression after they had led tours to various destinations for Blue Dot. Between the four owners, they have travelled to well over 150 countries, many on multiple occasions. The one thing they all have in common…they can't get enough travel. While the four owners travel with customers regularly, Blue Dot Travel also employs a selection of tour leaders. Angela Dooley, Paul Bennett, Karen Green, Simon Hart and Gordon McRonald are regulars.
Why the name Blue Dot?
The Pale Blue Dot is the name given to the photograph of Planet Earth taken from Voyager 1 in 1990. It is the furthest photo of Earth ever taken – from an incredible 6.1 billion kilometres. The vast expanse of the world can seem impossibly huge, but we aim to make the Pale Blue Dot smaller by offering comprehensively tailored travel solutions to unique and exotic destinations.
Our Regular Tour Leaders